XAVIER DELERUE'S CONFERENCES in DUBAI and ABU DHABI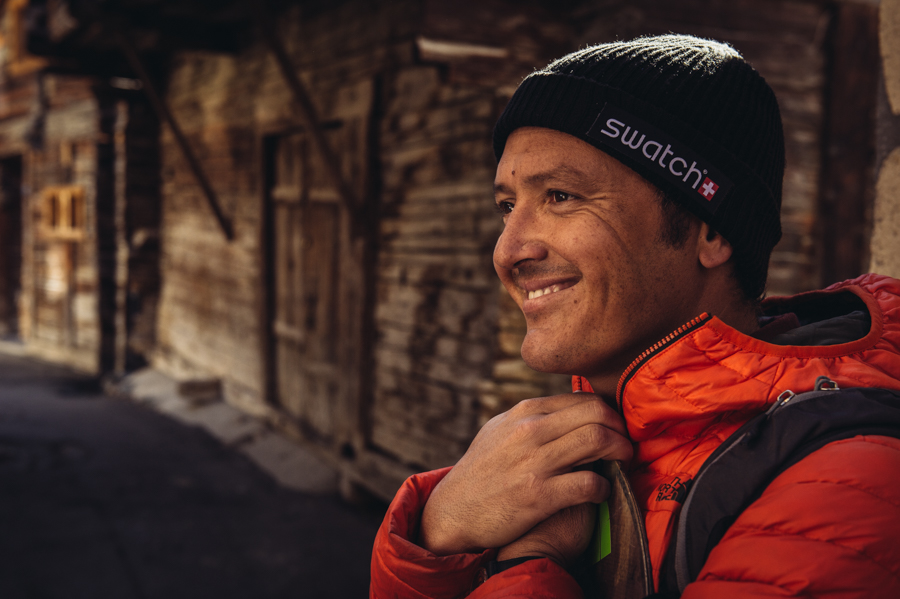 Xavier has become a true icon and has gathered great respect in the snowboarding world since he embarked upon making films and arranging his own expeditions. He has developed from being a world-class athlete to creating spectacular films on snowboarding. Xavier has transformed the approach to filming by experimenting with new ways of capturing daring feats, such as by using drones in the 2015 film « Degrees North ». He is currently working on a personal project: skiing, filming and mounting a production on his own travels.
Xavier is a freerider with a passion for board sports, steep slopes and speed. His style, he says, is no other than « fast and furious ». Xavier began his career by winning the Boardercross World Championship, first in 2003 and again in 2007, and has had multiple successes at the X Games.
He was the Snowboard Freeride World Champion three times running (in 2008, 2009 and 2010) and has twice received the award for the best line in the Freeride World Tour (snowboarding and skiing).
Whether he is facing steep cliffs, narrow corridors, deep powder, or terrain more akin to a mini-golf course, Xavier employs his technical knowledge to the full to tackle each part of every run.
But it is thanks to his stunning films that he has become a true hero in his sport. Xavier has always endeavoured to find locations with plenty of potential, to challenge himself in the most varied environments. In his film « Mission Antarctica« , he snowboarded on some of the most inhospitable expanses of ice in the world. Now, after years of organising the logistical aspects of his various projects, Xavier is appreciative of the purity of his new « DIY » production.
Based in Verbier, Switzerland, during the winter months, when he is not out on the road filming, he returns to the Pyrenees in the summer to spend time practising various other extreme sports.
But the most important thing for Xavier is to evolve, to experiment and to innovate, not only to surprise others, but also to surprise himself.
Extrem risk speaker in Dubai and Abu Dhabi (UAE)
Let UnoMe help you benefit from the experience of an extreme freerider and specialist in film production.
Xavier holds conferences in personal and team motivation, leadership, commercial development and risk management.
Conference Themes
Leadership and Management
Individual and Collective Motivation
Customer Service and the Art of Selling
Career and Filmography
Defining career moments
World Champion Freeride World Tour – 2010, 2009 and 2008
Best Line (Ski and Snowboard) of the Freeride World Tour – 2009 and 2008
Swatch O'Neill Big Mountain Pro – Winner in 2009 and 2007
Freeride World Tour Verbier Extreme (CH) – Winner in 2011, 2010, 2009 and 2007
Winner of the Freeride World Tour in Tignes (FR), 2009 and 2008
Freeride World Tour in Sochi (RUS) – 1st in 2010
Freeride World Tour in Squaw Valley (USA) – 1st in 2010
SBX FIS Vice World Champion in 2009
Oxbow Back to the Powder in Tignes (FR) – Winner in 2008
Boarder-X World Championship – Winner in 2003 and 2007
X Games UltraCross Winner in 2003
X Games Boarder-X – Winner in 2005
Gravity Games Boarder-X – Winner in 2005
Mt Baker legendary banked slalom Winner 2002
Filmography
2015 – Degrees North
2013 – Mission Antarctic
2013 – Transworld Snowboard Annual Movie
2013 – Mission Steeps
2013 – Into The Mind
2012 – Swatch TimeLine
2012 – 2112 by Standard Films
2011 – This is My Winter by TimeLine Films
2011 – TB20 Standard films
2011 – Retrospect
2010 – Deeper by TGR
2010 – The Storming by Standard Films
2010 – Follow Me Down by Relentless (Lives of the Artists 2)
2009 – Black Winter by Standard Films, Lives of the Artists by Relentlessenergy.com
2008 – Aesthetica by Standard Films
2008, 2007, 2006, 2005, 2003 – Nuit de la Glisse
2004 – The Ultimate Round
Awards
2012 and 2010 Stand-out performance of the year at TransWorld Snowboarding rider's pool
2011 Best Big Mountain Rider at the Tahoe Festival and the Saint Lary Freeride Festival
2010 Snowboarder mag Big Mountain Rider of the Year
Awarded for Standout part of the year at Transworld Rider Poll Award 2010
Cold Smoke Award 2010: nominated for Best Line
St Lary Freeride Film Festival 2010: Lives of the Artist awarded Best Shooting and Jury Special Prize
2009 Snowboarder Magazine Big Mountain Rider of The Year