JEAN TROILLET'S CONFERENCES in DUBAI and ABU DHABI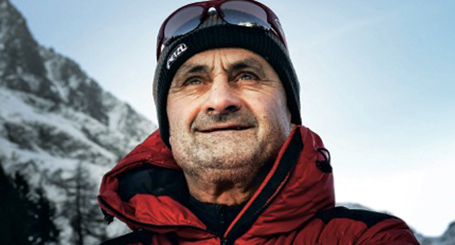 Jean Troillet was born on March 10, 1948 in Orsières, Valais (Switzerland).
Fascinated by mountains since childhood, he obtained his mountain guide certification at the age of 21. This Swiss-Canadian has climbed the ten highest peaks in the world, including Mount Everest, K2, and Kangchenjunga. Jean Troillet climbs « alpine-style » without an oxygen supply so that there is an ever-present challenge.
Mountain guide, photographer (for Animan), sailor, and heli-ski guide are a few of this warrior's talents. He holds many records. In 1986, he set a record alongside Erhard Loretan for the fastest ascent of Mount Everest (i.e. 43 hours) via the North Face. In 1997, he became the first man to descend the North Face on a snowboard. Today, aged 69 years old, his thirst for adventure seems boundless.
To learn more about this genuine legend of mountaineering, you can read the book Une vie à 8000 mètres [« A Life at 8,000m »] which tells the rich history of his life. The documentary Jean Troillet, toujours aventurier [« Jean Troillet, Always an Adventurer »] also recounts his journey as a high-level athlete. Creator of the Jean Troillet Fondation, he shares his passion for sports and mountains with young people by organizing camps and activities in the mountains, encouraging them to play sports on a regular basis and to develop a respect for nature.
Learning from a Mountaineering Legend
With 50 years of adventures behind him, Jean Troillet makes his dreams come true. Drawing on his experience with various challenges, Jean Troillet demonstrates how to set realistic goals, take action, innovate, and improve. Team spirit, cohesion, and communication are vital to overcome group challenges. Jean Troillet shares his values and philosophy for staying motivated in difficult times, and explains how to approach challenges with perseverance and determination to ensure success. Topics relating to health and personal development are also discussed.
Polyglot, Jean Troillet speaks French, German, English, Spanish, and Italian.
Conference Themes
Individual and Collective Motivation
Philosophy and Forecasting
Health and Personal Development
Achievements
The 8,000s of Jean Troillet:
K2, 8611 M.
MAKALU, 8463 M.
DHAULAGIRI, 8167 M.
LHOTSE, 8516 M.
EVEREST, 8848 M.
KANGCHENJUNGA, 8586 M.
CHO-OYU, 8201 M.
GASHERBRUM I, 8068 M.
SHISHA PANGMA, 8046 M.
GASHERBRUM II, 8035 M.